About Us
Sports and Adventure Camp offers unique outdoor activities that build self-confidence, leadership, trust, teamwork and responsibility. Whether the camper is completing a 40-foot climb or performing their first "wet exit" they will experience many new challenges that utilize problem solving skills and collaboration. These challenges, along with sports and games that improve cardiovascular fitness, help develop the child as a whole.
---
Parent Testimonials
"Your camp allows the camper to experience day to day varieties of activities in nature and to daily achieve personal triumphs of climbing small mountains (child perception), kayaking, and hiking difficult hikes. These personal achievements will stay with the camper forever. And they get a camping night complete with ghost stories and s'mores. Moreover, the small size of your camp creates a closeness where real friendships are more likely to occur. All this, plus your camp's home base is close in the DC area with after care. These elements and more put your camp head and shoulders above all others of which I am aware."

Kira – Parent – Summer 2011

"My two sons adored Harrington's Sports & Adventure Camp and came home every day tired, slightly muddy – and smiling. Just the way kids should be in the summertime. We've recommended this camp to everyone we know, and we'll be coming back again summer after summer."

Sarah – Parent – Summer 2014
---
Staff Bios
Paul Harrington
I started Sports & Adventure Camp as a program that blends adventure activities (mountain biking, kayaking, rafting, rock climbing, etc.) with traditional sports and games (soccer, dodge ball, basketball, capture-the-flag, ultimate, etc.). Having worked at various sports and day camps for the past twenty plus summers, and most recently a lead instructor at an adventure camp, I got to see first hand the different challenges that are offered and unique values that are instilled by adventure activities.
Children develop deep levels of trust and self confidence while they are conquering fears and rising to challenges, more so than in traditional sports. As a career coach and PE teacher, I  was able to see where adventure activities are lacking compared to sports, primarily in the area of aerobic activity and cardiovascular endurance. I firmly believe that a great summer camp should have a daily balance of different types of activities.
Sam Greenberg
Over the past decade, Sam has worked at outdoor adventure camps for children of all ages. What was once a summer job grew into a passion for working with children in an active and engaging environment. In college, Sam studied Music and Psychology, focusing on early childhood development. The first year out of college, he worked in classroom settings until his passion for the outdoors called him back to the adventure camp life. In addition to a full-time camp administrator and summer trip leader, Sam is a three season coach of cross country, basketball and track and field teams. He is currently certified as a Wilderness First Responder, Lifeguard, Outdoor Rock-Climbing instructor, instructor of Whitewater Solo and Tandem Canoeing, River Kayaking, and Stand up Paddle boarding with the American Canoe Association (ACA).
Stu Pierson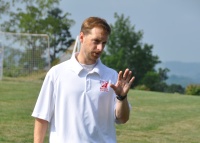 A soccer coach for more than two decades, "Stu" has coached successful teams at the adult amateur level in Metro Leagues, youth travel, youth Rec, High School boys, High School girls, and more recently has served as a Volunteer Assistant for the Howard University Women's Program. A lifelong player, Pierson competed in college for the nationally ranked, University of the South "Sewanee" Tigers. Coach Pierson holds a NSCAA Advanced National Diploma as well as a USSF C License.